Work in Progress and Pascal's Wager – Bangladesh in 2010.
2009 was the year that Bangladesh recorded their maiden Test series victory against a higher ranked side. But as sweet as that victory was for players and fans alike, to some it will always be tainted by the fact that the Tigers faced a second-string West Indies side. 2010 began with the promise of much sterner opposition for Bangladesh and while they failed to register any Test victories in 2010, Shakib Al Hasan's men have played enough good cricket to demonstrate that they are maturing as an international team.
Bangladesh started 2010 with a tough home series against the mighty Indians and the wily Sri Lankans. In the Test series against India, Shahadat Hossain led an aggressive bowling display that had the much- vaunted Indian batsmen ducking for cover. Virender Sehwag's indiscreet comments ahead of the series clearly riled the Bangladeshis, resulting in the unusual sight of Bangladeshi bowlers sending down fast, short-pitched deliveries against the accomplished Indian batting line up. Rahul Dravid's cut right cheek care of a Shahadat Hossain bouncer together with a record breaking second wicket partnership of 200 between Tamim Iqbal and Junaid Siddiqui, atTest to the fact that the current generation of Bangladeshi cricketers do not conform to the stereotypes of their predecessors.
Test Cricket in 2010
Bangladesh played a total of seven Tests in 2010 and lost all seven. However, that bare statistic belies the fact that Bangladesh played admirably against some top quality opposition. Those seven Tests came against India and England (arguably two of the strongest Test sides in 2010) and New Zealand who are a very dangerous Test team at home conditions. Bangladesh registered seven centuries in seven Test matches, an encouraging sign for a team often derided for their inability to bat with patience.
Shakib Al Hasan was the key man again for Bangladesh in 2010
Tamim Iqbal scored three of those seven centuries, but there were also hundreds for Mahmudullah Riyad (115 in Hamilton), Shakib Al Hasan (100 in that same Test in Hamilton) Mushfiqur Rahim (101 against India at Chittagong) and Junaid Siddiqui (106 against England in Chittagong).
And it did not end there, Bangladesh also took five of those seven Tests into the fifth day of play and in ten of those innings they managed to post a score of at least 250. There was a time when Bangladesh lacked the wherewithal to bat effectively against fast bowlers in foreign climes, in 2010 Bangladesh showed encouraging signs to shed that particular monkey off their backs.
Alas, while the batting was at times encouraging, Bangladesh's bowling in 2010 left much to be desired. On pitches where spin is a significant factor, Bangladesh can hold their own, but where the conditions favour seam, the Tigers have limited options. Shahadat Hossain continues to bowl capriciously (so much so that he is no longer considered suited to one day cricket) and with the exception of Rubel Hossain and Shafiul Islam the cupboard is pretty bare as Mashrafe is still struggling with injuries.
ODI Cricket in 2010
Bangladesh's one day form veered from the sublime to the ridiculous. Of the 28 ODIs Bangladesh played in 2010, they lost 18 and won only nine. The wins were intoxicating; their maiden ODI victory against England in Bristol for example was keenly fought and well-earned. Moreover, their four-match clean sweep against the visiting New Zealanders in October will haunt Daniel Vettori's men for some time to come. But there were lows too, perhaps the most significant of which was a humiliating defeat to the Netherlands at the fag-end of Bangladesh's tour of England.
Highlight of the Year.
Daniel Vettori could have been forgiven for thinking that New Zealand's tour to Bangladesh in 2010 would be a gentle foray into one of the World Cup host nations. If that was the case, it did not go according to the plan. The highlight of Bangladesh's year came in that series where Shakib's men secured an unprecedented ODI series victory against Test-class opposition. Most satisfying aspect for Bangladesh's supporters was the nature of those wins against the Black Caps. The Tigers won the first rain-interrupted ODI by nine runs thanks to Messrs Duckworth and Lewis. Vettori would not doubt have shrugged that off as an unfortunate incident, perhaps due in part to a lack of match practice leading up to the series. However, following a washout in the second ODI, Bangladesh secured victory in the third ODI by the far more convincing margin of seven wickets, with 60 balls remaining. The final two ODIs were close calls, but ultimately there was nothing Vettori's men could do to prevent the a series whitewash. There can be little doubt that the sight of the Bangladesh team and their supporters in Mirpur on October 17th will be remembered as the defining image of Bangladesh cricket in 2010.
Player of the Year.
In October The Wisden Cricketer named Tamim Iqbal as the TWC Test cricketer of the year and it would be imprudent not to acknowledge that the 21 year old left-hander from Chittagong was Bangladesh's most impressive player in 2010.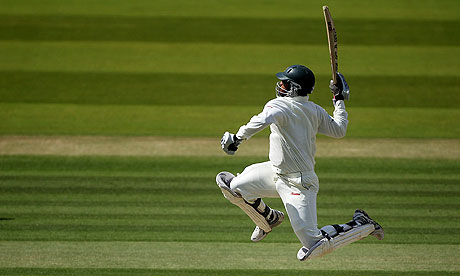 Tamim Iqbal celebrates his century against England at Lord's in the first Test
The preternaturally gifted Tamim played 14 stroke-filled Test innings in 2010, scoring 837 runs at an average of just a shade under 60. Against England in May and June this year he scored 55, 103 and 108. Following his hundred at Lords (the first by a Bangladeshi batsmen at the home of cricket), Kevin Pietersen sarcastically quipped that if batting seemed so easy to Tamim, he should wait until he got to Old Trafford. Alas at Old Trafford Tamim scored 108, proving the old adage that it is wise to be selective when choosing which batsmen to sledge.
Player to Watch.
A number of Bangladesh players impressed in 2010. On the bowling front, Shafiul Islam proved an intelligent fast bowler with brisk pace. Rubel Hossain is developing the ability to bowl accurately to complement his unorthodox action and encouraging pace. On the batting front, occasional keeper Jahurul Islam displayed great potential with the bat on the tour of England and Mahmudullah Riyad played some good Test innings early in the year. Furthermore, left-handed opener Imrul Kayes scored his maiden ODI hundred in 2010 and is developing into a reliable partner of Tamim Iqbal at the top of the order.
But it is a left arm spinner whom I have selected as the player to watch in 2011. The wonderfully-named Suhrawadi Shuvo has only just embarked upon his international career, but a string of impressive performances against New Zealand and Zimbabwe in the latter half of 2010 has shown that he may well be the man to plug the gap left by that admirable old war horse, Mohammed Rafique. The left armer from Rajshahi is an athletic fielder and a handy batsman and has impressed in domestic cricket for a number of years now. 2011 could be the year he makes his mark on international cricket.
Prospects for 2011.
Bangladesh have had mixed fortunes in the last 12 months. There have been some satisfying victories but also some enervating failures. Bangladesh remain a work in progress and while they will take heart from some of their performances in 2010, there are a number of major issues that need addressing.
One such matter is the captaincy. Shakib Al Hasan seems to be a reluctant captain while Mashrafe Mortaza is an incapacitated one. Indecision breeds instability, if neither man wants the job or is not deemed fit enough, the selectors must avoid dithering and promptly appoint an alternative. Mushfiqur Rahim has been groomed for the role in the past and is a player whose position in the side is all but certain. On the other hand, Abdur Razzak is an experienced and widely respected senior player and either of them would make a reasonable captain.
The perennial conundrum of Mohammed Ashraful also needs to be finally put to rest. The architects of Bangladesh's greatest achievements of recent years have been the new crop of players; the likes of Tamim, Shakib, Mahmudullah Riyad and Mushfiqur Rahim. These are all players who graduated to the senior side in the past four or five years. Though comparatively young, Ashraful in fact represents the previous generation of players whose defining characteristic was an ability to self-destruct.
Like selection panels before them, Chief Selector Rafiqul Alam and his colleagues continue to put their faith in Ashraful in what can only be described as a sort of warped version Pascal's wager on the existence of God. Alam appears to believe that it is better to continue to select Bangladesh's most underachieving batsman in the hope that he will one day play to his full potential, rather than to leave him out and risk eternal damnation.
Ashraful will no doubt participate in the 2011 World Cup and while it is to be hoped that he will live up to his billing, a number of talented young batsmen such as Naeem Islam and Jahurul Islam surely do not deserve to have their prospects of advancement blocked due to blind faith on Ashraful. The selectors must quickly decide whether to finally put Ashraful to pasture until he can prove his worth.
2011 is a year of opportunity for Bangladesh. As a World Cup beckons, in the early part of the year, the Tigers should string together some respectable performances on the familiar pitches of Mirpur and Chittagong. They will also have the opportunity of repeating their one-day feats against New Zealand in the Test arena, with a two match Test series planned immediately after the World Cup.
Bangladesh have made some progress in 2010 and even made a little bit of history along the way. If they are able to continue this trend, people may well look back at 2010 as the year when the Tigers finally turned the tables, the year they began to feel at ease among the elite club of Test cricketing nations.